30th Anniversary of "Human Chain" Celebrated in Poster Art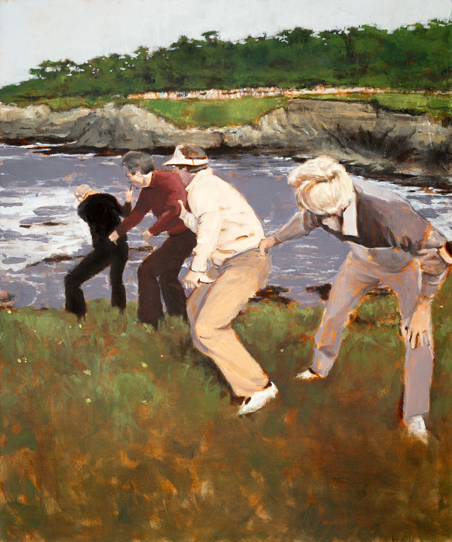 MONTEREY, CALIFORNIA, January 30, 2017 – One of the most indelible images in the legend and lore of the AT&T Pebble Beach Pro-Am was staged three decades ago on the 16th hole at Cypress Point Club, where beloved actor Jack Lemmon found himself in the ice plant. His predicament led to "The Human Chain" – an impromptu and truly dangerous effort by the foursome to help Lemmon extract a miraculous shot – that has been captured by studio artist Geoff Cunningham for the 2017 AT&T Pebble Beach Pro-Am official poster.
During the first round of the 1987 AT&T Pebble Beach Pro-Am., Lemmon laid-up with his tee shot on the long, dangerous cliff-side par 3 and then promptly hit a weak approach that skipped right off the green, down the slope into the ice plant.
Lemmon's longtime tournament playing partner, Peter Jacobsen, recalls the scene like it happened yesterday:
"Jack's ball is a foot from the edge of a cliff," Jacobsen recalls. "I'm talking about 70 feet straight down to the water. There's no way he can even try to hit it. That ice plant is slippery."
"Clint Eastwood is playing in our group and he comes over and gives it his best Dirty Harry squint and says, 'C'mon, Jack, hit that sonofabitch! I'll help.' He gets behind Lemmon and grabs his belt. I'm watching this thinking, 'Holy cow, two icons of American cinema are about to fall to their death. I gotta do something!'
"So I rush over and grab Clint by his belt. Well, [Eastwood's partner] Greg Norman wants to be part of the fun so he grabs my belt. Then Greg's belt gets grabbed by his caddie, Pete Bender. The crowd is going nuts. The cameras are everywhere. It's a great scene.
"Jack, amazingly, gets the ball out of the ice plant back into the fairway. It's a heck of a shot."
"But here's the kicker. His next shot, he shanks straight into the ocean."
Always the most popular PGA TOUR event on the West Coast, the 2017 AT&T Pebble Beach Pro-Am is ready to deliver another exciting week of world-class golf and world-class fun. The best tour professionals in the game and a knockout lineup of celebrities will tee it up on three of the Monterey Peninsula's premier golf courses the week of Feb. 6-12, 2017.
Although Lemmon, who passed away in 2001, never won the pro-am, celebrity favorites like Bill Murray, and Kenny G have won – with both confirmed to will be back to go for another title in 2017.
Jordan Spieth, Jason Day, and Dustin Johnson are among the most popular tour pros scheduled to compete, along with celebrities Mark Wahlberg and . The field again takes on Pebble Beach Golf Links, Spyglass Hill Golf Course, and Monterey Peninsula Country Club Shore Course for three rounds, with the final round at Pebble Beach.
"Rekindling the spirit of the 'Human Chain' was really fun," said Cunningham, who is cofounder and art director of LINKSOUL, a golf company dedicated to reconnecting people to the soul of the game. "I do better work when I love something so much."
The link between golf and art may seem fuzzy, but similar to yoga and surfing, Cunningham considers both to be disciplines. "You're not necessarily looking at it like a sport, but as a practice where you learn about yourself and nature," he says.
Cunningham's work has shown in New York, Los Angeles, San Francisco, San Diego, Portland and Santa Fe, as well as abroad in Germany, South Africa, Italy, and the UK. Cunningham currently lives and works in Oceanside, Calif., with his wife Carrie Minikel and their daughter, Vera.
For more tournament information and updates, visit www.attpbgolf.com.
# # #
About Monterey Peninsula Foundation
Monterey Peninsula Foundation (MPF) is a charitable foundation, which disburses funds from the proceeds of the AT&T Pebble Beach Pro-Am, a PGA TOUR event and the PURE Insurance Championship, a PGA TOUR Champions event. MPF focuses on improving the quality of life in Monterey, Santa Cruz, and San Benito counties. In the 2015/2016 fiscal year, MPF donated $10.8 million dollars to non-profit organizations in the three adjoining counties.
www.montereypeninsulafoundation.org; www.pureinsurancechampionship.com
If you would rather not receive future communications from Hunter Public Relations & Special Events, let us know by clicking here.
Hunter Public Relations & Special Events, P O Box 1049, Pebble Beach, CA 93953-1049 United States