The AT&T Pebble Beach Pro-Am golf tournament is the outgrowth of an idea Bing Crosby had in the mid-1930s after joining Lakeside Golf Club in Los Angeles.
Crosby came up with the idea of staging a pro-am competition to give Lakeside members and some other low handicap amateur golfers a chance to play with 50 or 60 professionals who were on the West Coast during the winter months.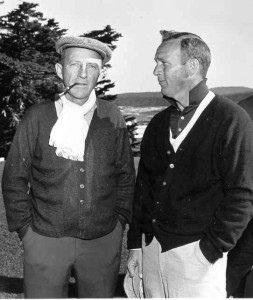 Since he had a home in the area, and was involved with Del Mar race track, it was logical that the tournament be held in the San Diego area and Crosby selected Rancho Santa Fe Golf Club as the site for the event.
The first tournament in 1937 was limited to 18 holes when a deluge washed out the first round, starting a precedent for future years when weather was a big factor. Sam Snead won the initial tournament with a 68 with George Von Elm runner-up at 72. Snead and George Lewis won the pro-am section with a 68. In 1938 Snead won again, shooting 72-67–139 and collecting $500. Art Bell and amateur Phil Finlay won the pro-am with a 134.
E. J. (Dutch) Harrison won in 1939, in Snead's absence, shooting 69-69–138, topping Byron Nelson, 68-71–139, and Horton Smith, 71-68–139 by one stroke. Johnny Revolta and Maurie Luxford, who was a tournament official for many years, won the pro-am division with 130. Babe Didrikson Zaharias was an entry in the event with husband George Zaharias, a former pro wrestler, but was never a factor in the competition.
Ed (Porky) Oliver, who later gained recognition by taking 16 strokes on the 16th hole at Cypress Point, won in 1940 with rounds of 68-67–135, topping Vic Ghezzi, 69-69–138. Pro-am winners were John Geertsen Sr. and Russ Osgood with 129.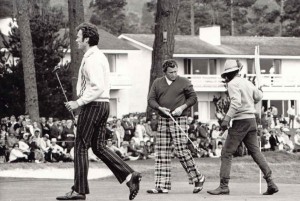 After starting with some 60 players, the 1941 field grew to more than 300, necessitating two days for the first round. Sam Snead won his third title with 67-69–136, edging Craig Wood, 69-68–137. Leonard Dodson and Ray Watson were the pro-am winners with 124.
The final tournament at Rancho Santa Fe was held in 1942 with Lloyd Mangrum and Leland Gibson listed as co-winners of the event. Mangrum had 70-66–136 while Gibson shot 67-69–136. The truth was, however, that they finished behind amateur John Dawson, who shot 66-67–133. Dawson, who was a scratch player at Lakeside, refused the money. Harry Cooper and Dawson claimed pro-am honors. Cooper helped Dawson six strokes for a 127 total.